1
Posted on September 25, 2011 by Brooke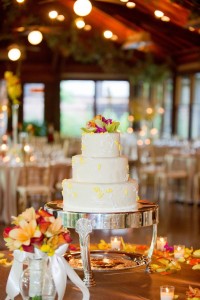 Fall is finally here!
Oh, sure, it was still 91 degrees today.  But the light is different.  And it actually feels, like, permissible to watch football. 
So as the pumpkins and fall colors – and Halloween decorations? – start to make a little more sense, I just wish the mercury would drop.  Just a leeetle.  And incidentally, let me run off on a Christen-like tangent, because something was bothering me today, as I was shopping at the local Fresh Market.  And that would be Peeps, People.  Jack o' Lantern Peeps.  Is this just wrong to anyone else?  I mean, don't Peeps lose all their special Peep-i-ness when they're around for every holiday?  But anyway…
Although our cake friends are quite busy just now, what with the super fabulous FALL wedding season (yep, that's when Yours Truly got hitched 😉 ), it still didn't feel like a uber crazy week, wedding-wise.  So let's get down to it, and see what happened with week in the world of wedding.  But first, The News:
That adorable picture of the Duke and Duchess of Cambridge kissing after their April wedding?  Turns out it was a special request of Prince William himself.
Tennessee's governor, Bill Haslam, reportedly performed his daughter's wedding ceremony yesterday.  Up to now, the family had kept details under wraps.  Who let the cat out of the bag?  That would be President Obama, it seems.
This is a sweet piece…proving that, when it comes to wedding bands — size does matter.
And now let's talk Sweet and Pretty:
Bridal shower cookies, courtesy of Austin Wedding Blog.  Cutest!  Cookies!  EVER!
Yes, Dear Bride, it is your day.  And of course, Darling, we'd like you to have everything just as you want it.  But please, heed this good advice from Valley and Co Blog via Bride Tide – and avoid overly fragrant blooms.  Please?
We love this pretty wedding – Texas meets England – courtesy of Love My Dress.
We're seeing "trash the dress" photo sessions gaining in momentum…bride and groom go on a fun photo shoot, and activities range from smudging up the dress a bit to completely ruining it with paint or some such substance.  But this one caught our eye – a bride swimming in her dress.  I would have drown in mine, weighed down by the petticoat!  But this is pretty

From Yes Bride.
For the Disney fans out there…wedding meets vintage Disneyland in this beautiful cake in the style of the original Disneyland sign.  From Disney Weddings Blog, Ever After.
Ruffles are my current passion, so the pink ruffle cake from this lovely wedding from Portugal had me at hello.  Love it, from Wedding Chicks.
I happen to have a soft spot for Savannah, Georgia…and boys that go to SCAD (Savannah College of Art and Design.)  From Style Me Pretty Georgia, a lovely Savannah Wedding.
We can't help it – More Style Me Pretty!  From the Biltmore Estate in Asheville (and check out the incredible cake, above.)
Have a delicious week!
Read More:
biltmore estate
,
Duke and Duchess of Cambridge
,
Gov Bill Haslam
,
losing your wedding band
,
overly fragrant blooms
,
picking wedding flowers
,
Prince William
,
ruffled wedding cakes
,
Savannah College of Art and Design
,
savannah weddings
,
SCAD
,
trash the dress photo shoots
,
vintage disneyland cake
,
wedding cookies
Recent Posts