0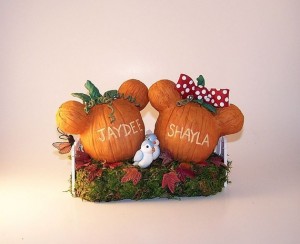 I'm writing to you from the wild, wonderful mountains of West Virginia.  We're up for our annual fall visit, to see the leaves, to eat favorite foods, to hug the necks of people we love.  Sadly, a wild, wonderful wind came through the night we got here after an ungodly long drive.  So the pretty leaves are all on the ground.
But we will try and soak up some fall, and delight in our surroundings.  It really is nice to wear a sweater and not get hot.
I keep noticing wedding cakes everywhere I go!  There's an adorable little coffee shop in Bridgeport that I'm dying to go over and do a little feature on!  We shall see if we have time.
But until I can get over that way for another slice of pumpkin cheesecake (!) Let's talk about The News:
Just enchanting:  Asia's Prince Charming, Bhutan's King Jigme Khesar Namgyal Wangchuck, married his commoner bride, Jetsun Pema, Friday, in a traditional Buddhist ceremony on Thursday.
Forget the flatware:  guy centric gifts are popping up on more wedding registries these days, according to the Edmonton Journal.
We knew it!  Our favorite Beatle (well…Brooke's, anyway) got married last week! And in typical rockstar fashion, Paul McCartney's neighbors called the police to quiet down the festivities just after 1 a.m.  Some lovely pictures from the U.K. Telegraph.
And now for The Sweet and Pretty:
It's all about perspective, yes?  Here's a terrific little info graphic, featured on Austin Wedding Blog – the Kardashian wedding versus a normal one.
Disney Wedding Blog shows us the ultimate Disney At Home Wedding.
Have a delicious week!
Read More:
Bhutan
,
Disney Weddings
,
guy wedding gifts
,
Jetsun Pema
,
kim kardash
,
King Jigme Khesar Namgyal Wangchuck
,
paul mccartney