0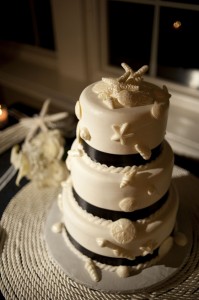 What an awesome week!
While we're resting up from some great time with friends and family and making the last of the last few days of summer, we're still all about the Sweet and Pretty!  Here's what we saw from The World of Wedding this week!  But first, The News:
Kim Kardashian and Kris Humphries made it official yesterday.  Like you didn't know.
How's this for romantic?  The groom surprises the bride with a wedding – and gets all the details right!
Thinking of going green for your nuptials?  Here's how one Kansas couple did it.
A Texas woman's wedding dress is stolen…but does that stop her from walking down the aisle?  No siree bobby.
And now, onto The Sweet and Pretty:
Oh, but we are NOT finished with summer quite yet!  I love love LOVE this Bright and Cheery Summer Wedding, courtesy of Hostess Blog.  Check out the adorable cake and sweets table above, created by Sweet and Saucy Shop!  I especially love how cake artist Melody Brandon alternates square and round layers to match the whimsy of the color scheme.
We LOVE when we see a wedding – or a dress – that is sooo pretty, it makes us want to run right out and have another wedding!  This is just such a dress…and wedding.  From My Wedding Dot Com.
I love this stunning crocheted wedding dress with an apple green underlay.  Pretty and retro….and the trend toward short dresses?  Too cute!
For the green bride – we're lovin' these wedding flowers…made of recycled products from around the house.  So pretty, you'd never know it!  (See our Photo Source below for a link to the artist's, Lauren Karnitz, website.  The yellow peonies are our fave!)
Another stunning cake by Jenniffer at Cup a Dee Cakes – a "moving away cake."  Meticulous detail as always!
A darling Australian wedding from Polka Dot Bride:  Oliver and Lauren…glam meets fun.
Oh how I love me a nautical theme.  And a nautical themed wedding with matching shell cake??  Even better!  Courtesy of The Oceanside Bride. (Check out the amazing cake above!)
Have a delicious week!
Read More:
beach wedding cakes
,
bright wedding cakes
,
crocheted wedding dresses
,
Kim Kardashian
,
Kris humphries
,
recycled wedding flowers
,
shell wedding cakes
,
surprise weddings