0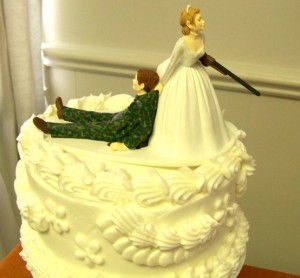 I come from a hunting people.  Or so they tell me.
No one in my immediate circle ever disappeared the week before Thanksgiving to go hunt up some deer. But when I transferred to a private high school in the next (somewhat more rural) county over, I soon found out what a big deal hunting in my neck o' the woods was.  I would normally get pretty annoyed when boys – and teachers – were excused to go sit in the woods.  I argued that I should be excused to shop.  But no one agreed.
So I guarantee there are some fall brides that this cake topper will absolutely speak to.
Happy Hunting, Boys.  And Girls.
Read More:
Bride and Groom Cake Toppers
,
hunter cake topper