3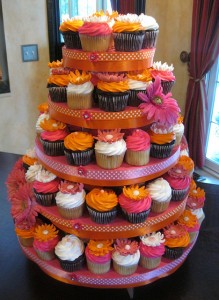 Like I could resist that much rhymability when we're talking about something this. So. Darn. Adorable.
I don't know what in the world it's doing where you are, but here, it's raining raining raining.  And while I'm not complaining – exactly – it's always nice to see something like this, something that recalls the prettiest and sparkliest summer day, and makes you want to skip and, well, eat cupcakes.
Kati's Kupcakes of Moorestown, New Jersey, is responsible for all this pretty.  From the flowers, to the bright colors, to the oh-so-cute stand.  I want this.  I'm thinking about ordering one today, to perk up my dreary house.
Read More:
colorful cupcake stands
,
colorful cupcake towers
,
cupcake towers
,
daisy cupcakes
,
flower cupcakes
,
orange and pink cupcakes
,
orange cupcakes
,
pink cupcakes