0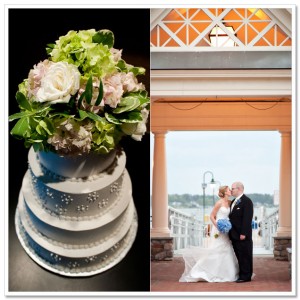 Run a half marathon to celebrate a certain milestone birthday:  Check.
Party like a rockstar for the week after said half marathon, and even eat a donut:  Check.
Contemplate a cupcake, but don't commit, and walk away:  Check, check.
Y'all will be happy to know that I successfully participated in (saying that I competed would just be laughable) the Walt Disney World Wine and Dine Half Marathon last Saturday night.   Whew!  That was fun!  And Hard.  Here's the Bling, by the way, as well as the bib: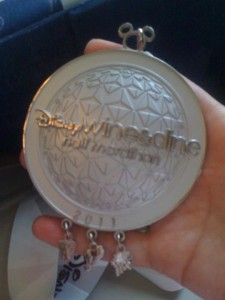 Excuse the iPhone pics.  Because seriously, I know you wanted to see the proof that this cake lovin' girl really did this thing.  And c'mon.  If you're going to run a half marathon, shouldn't your bib have a DRINK VOUCHER?
So the soreness is gone, and I'm ready to get back to training – odd how it becomes a habit – and I'm looking forward to doing WAY better next year.  Like finishing less than a 1000 people from the end.
So…what does ANY of this have to do with cake?  Not a darn thing.  But it was this, or I tell you about the rain that has been nonstop for two days, and the fact that I just saw Noah float by.  I figured the race (complete with jewelry!) would be slightly more interesting.
But onto the Wedding fab!  Let's check out The News first, shall we?
A Golden Oldie, but a Goodie…I lolololed this week when I saw this post on a friend's Facebook page, about the bride with the cake replica of herself.  And then I lololololed again when I became the resident expert on the matter, since I had, you know, read the article.  Worth reading again.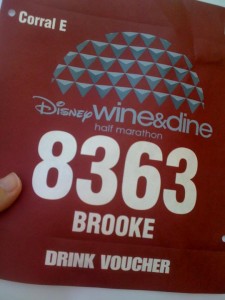 We know it's eminent, but when?  All signs point to Paul McCartney marrying his fiancee, American heiress Nancy Shevell, shortly.  Like, judging from those rented chairs that were hauled into his London residence, any day now.
Who's buying up all the couture?  You might be surprised…proof that women truly dress for other women, as men have suspected all along.
And now for some Sweet and Pretty:
In one of our very first round ups (rounds up?) we featured a piece about Kara Buntin, and A Cake to Remember.  Kara wanted to award a wedding cake to a lucky bride and groom, with a catch:  she would get to do something different, out of the ordinary, and not boring.  I was so happy today to see that cake come to life!  Behold, Kara's Robot Cake.  Seriously one of the cutest.  Cakes.  Ever.
Austin Wedding Blog thinks that the Juliet Cap will be a big trend for in-the-know brides in 2012.  We think we agree.  Thoughts?
I have never featured a wedding solely on the basis of a bouquet.  Until now.  By the way, did I mention that I super heart hydrangeas?  As much as Christen hearts gerbera daisies, in fact.  (Thanks to Borrowed and Bleu as well as Elisa B. Photography for the stunning pic of said bouquet – and wedding cake – above.)
Oh, Emmaline Bride, you had me at coffee:  How to Plan a Coffee Themed Wedding.  Yes.  This.
Just in time for fall, Rhi from Hey Gorg shares this scrumptious pumpkin spice cupcake with ganache recipe YUM!
I'm a pretty traditional girl (You don't say!) but I like this piece from Off Beat Bride about Re-Writing our Wedding Notions.
Have a delicious week!
Read More:
bride as cake
,
challenging wedding traditions
,
coffee themed wedding
,
disney's wine and dine half marathon
,
ganache
,
haute couture
,
hydrangea bouquet
,
juliet cap
,
nancy shevell
,
paul mccartney
,
pumpkin cupcakes with ganache
,
pumpkin spice cupcakes
,
robot cake