0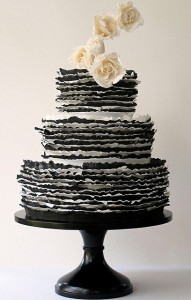 Happy…well…post 11.11.11!  Lame, I know.  But wasn't that crazy?  I mean, we've had 1.1.1, 2.2.2, 3.3.3, etc, etc,…but people really went crazy for 11.11.11, didn't they?  From movie premieres to weddings, it was crazy times this past Friday.  Heck, we're just glad to be that much closer to Turkey Day around here.
Still, beyond that freak snowstorm that pummeled the Northeast, it's turning out to be a lovely fall.  And as we're making our lists and checking them twice, we thought we'd pause to see what's going on in the world of wedding.  But before we get to all the lovely, of course, there's The News:
Vice President Joe and Dr. Jill Biden's daughter, Ashley, is engaged to be married to Dr. Howard Krien.  From comments that Dr. Biden has made, it appears that the wedding will take place in Delaware.
And speaking of 11.11.11, Walt Disney World had eleven – yep, you heard me right – eleven weddings on Friday.  Goodness.  Gracious.
Want a wedding do-over?  The WE channel has just the show for you, appropriately called Do Over.
And now for some Sweet and Pretty:
We've been following Maggie Austin's Cakes on Facebook for a while.  In honor of the opening of her brand new studio, this terrific Washington Post article tells you a little about her journey, from ballerina to cake artist.  Photo above.
From Austin Wedding Blog, check out this incredible black and white ruffled wedding cake – so pretty, we feature it above.
And if that isn't gorgeous and unique enough, how about this exquisite Wizard of Oz wedding cake, courtesy of Bridal Snob.  O. M. G. 
I am diggin' this fall-inspired wedding, which unexpectedly – and beautifully – uses pink, buff, and white to create a stunning and unique backdrop.  Via Hey Gorg blog.
Ya know how much I love me some navy in a wedding.  Here, it's paired with pink AND the beach!  That makes this wedding just about perfect.  From Oceanside Bride.
Wedding Chicks shares with us some lovely dresses from the 2012 Spring Collection from Claire Pettibone.  Sigh.
Okay, okay, okay…to boudoir, or not to boudoir?  That is a viable question, since this hot trend seems to be here to stay.  Here's a piece by one of our faves, The Knotty Bride, featuring one of Alison's favorite photographers.  What do y'all think?  Would ya do it?
That'll do it.  Have a delicious week!
Read More:
11.11.11
,
11.11.11 weddings
,
ashley biden
,
ashley biden wedding
,
beach weddings
,
black and white cakes
,
boudoir photography
,
d.c. cakes
,
disney 11.11.11 weddings
,
Disney Weddings
,
dr. howard krien
,
dr. jill biden
,
fall inspired weddings
,
maggie austin cakes
,
pink weddings
,
ruffled cakes
,
tv show do over
,
vice president joe biden
,
Walt Disney World
,
wedding do overs