0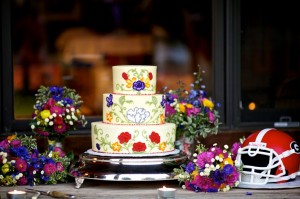 What a great time of the year!  We hope that you had a wonderful Thanksgiving, gathered together with family or friends – or both!  We did, and we're still enjoying those fantastic leftovers!  And while our attention is rapidly turning to Christmas and the winter holidays, we're excited to bring you all the sweetest and prettiest from around the interwebs!  But first, The News:
Forget shopping on Black Friday.  These two were at the mall to get married.
When you think of the things that might go wrong for your wedding, you probably don't consider the show X-Factor as a destructive force on The Big Day.
Visiting New Delhi this week?  Beware of wedding traffic jams.
And now for some Sweet and Pretty:
We can't decide which we like better – the beautiful and vibrant wedding cake, inspired by vintage table linens, or the University of Georgia Bulldogs football helmet groom's cake! (Yep, we're Bulldawgs fans 😉  ).  Both fabulous cakes are by Intricate Icings, whom we lurve, and are also featured above.
And in one last nod to autumn before we turn our attention to winter, we love this beautiful fall foliage cake by Cupadee Cakes!
Beautiful dresses and accessories were the order o' the day at the recent London preview of Matthew Williamson Bridal Wear.  Lovely.  Via Love My Dress.
Fifties Wedding talks about one of my very favoritest things:  pearls!
As we expected and sure enough, the trend toward lace wedding dresses is emerging.  Belle the Magazine takes a look at lace back dresses.
Just in time for chilly weather, we LOVE Bijoux Bride's DIY idea for a hot chocolate bar!
Lovely beach wedding – in Ireland! From Oceanside Bride.
Have a delicious week!
Read More:
beach wedding
,
black friday weddings
,
cakes inspired by vintage linens
,
cupadee cakes
,
destination weddings
,
fall foliage wedding cakes
,
fall wedding cakes
,
floral cakes
,
football grooms cake
,
football helmet groom's cakes
,
Georgia groom's cakes
,
intricate icings
,
ireland wedding
,
lace back wedding dresses
,
lace wedding dresses
,
mall weddings
,
matthew williamson bridal wear
,
new delhi
,
pearls
,
thanksgiving weddings
,
UGA groom's cake
,
vibrant color wedding cakes
,
wedding diy
,
wedding dress trends
,
wedding hot chocolate bar
,
wedding jewelry
,
x-factor