1
Posted on November 6, 2011 by Brooke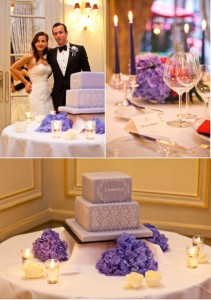 Happy November, Everyone!  Or, as my friend Maggie wryly said this week, "Merry Christmas!"
It does kinda feel like Thanksgiving and giving thanks gets swallowed right up in the mad rush of Christmas…which is, I'm pretty sure, not what we should be doing.  Nevertheless, I did my first spot of shopping today, and accepted my first invitation to a Christmas party.  So before I even have my Thanksgiving menu decided, Christmas is unfolding before us.
Well, here at A Wedding Cake Blog, we love them both – so we'll do our best to talk about everything and keep all holidays in some semblance of order. 
What about you?  Fast onto Christmas, and leaving Thanksgiving as an afterthought?  Or are the Christmas CDs banned from your car til November 25?  Well, while you ponder your witty response, I'll get to the point of this round-up.  But first, a little spot of The News:
Under the heading of "Um, What?" – man sues photographer in hopes of re-enacting his wedding to capture missed moments.  The twist?  (I mean, it's weird enough, but…) The couple is now divorced.
You know the viral video of the wedding dad/daughter dance that everyone's seen (but me?)  Dad and daughter recreate it in NY for Good Morning America audiences.
Jennifer Pozner gives us the upside to the Kim Kardashian wedding implosion:  Her divorce is good for America – and for women.
And now for the Sweet and Pretty:
I lurve this cookie cake topper, featured on Emmaline Bride!  Do you suppose that the bride and groom bit the heads off one another in lieu of the cake-face smoosh?
Yes, yes, I know this Elmo cake is not, nor could it ever be, a wedding cake.  But it's too darn cute not to show you.  From Hostess with the Mostess.
Love love love love LOVE!  Yoda helps autistic flower girl down the aisle.  No, seriously.  You have to see this.  Courtesy of Offbeat Bride.
You know what's great about this wedding?  It is beautifully… traditional.  So many brides seem to be trying to top each other lately.  This one is just so.  From Polka Dot Bride.
I have a soft spot for Paris.  We saw lots of couples getting married, snapping their photos, the week we were there for our honeymoon.  So this one really spoke to me.  And the beautiful purple cake?  We feature above.  From Style Me Pretty.
Sweet…and pretty.  Camilla, Duchess of Cornwall, sent a slice of cake to a royal fan who couldn't make it to the Big Wedding last April.  Both the commemorative tin and the sentiment are just lovely.
Have a delicious week!
Read More:
australia wedding
,
camilla duchess of cornwall
,
cookie cake topper
,
dad daughter dance viral video
,
elmo cake
,
kim kardashian divorce
,
paris wedding
,
purple wedding cake
,
traditional wedding cake
,
will and kate wedding
,
yoda
Recent Posts