0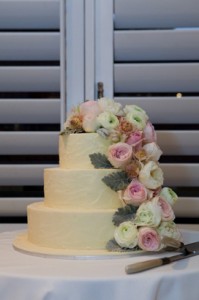 Hey Y'all!
We'll be heading out to Georgia in just a little bit to spend the holiday there.  Where will you be?  Why?  Are you happy about it?  Or just going 'cause you have to?
Well…where ever you find yourself this Thanksgiving, I hope that you are able to center, focus, and give thanks for the blessings in your life.  Maybe they're abundant.  Maybe they aren't immediately apparent.  But I guarantee, if you look around a bit, you'll find a few things to be grateful for.
I suppose that's enough lecturing from me.  I have packing to do and pies to dream about.  So let's get to the recap and rounding up — all the Sweet & Pretty you're craving.
This Week in Review
I stumbled upon the a very pretty wedding in New York.  The fete featured some of the prettiest cakes I've ever seen, and since I couldn't decide on just one, I ended up featuring four!  You're welcome.

On Monday, we kicked the week off with this beautifulToile de Jouy Cake.
On Tuesday, I showed you this Silver and White Pumpkin Wedding Cake.
Thursday came and went, but not without this crave-inducing Rustic (Naked!) Fig Layer Cake.
We showed you this lovely cake featuring Marzipan Eggs as the cake topper on Friday.
This Groom and Bride Cake duo stole the show on Saturday.
Sweet & Pretty
And now for the Sweet & Pretty round-up!  Let's go!
I am LOVIN' this Grapefruit Palette from Burnetts Boards!
A cute post from Emmaline Bride on What To Wear While Getting Ready for Your Wedding.  I want those leg warmers in the worst way!
I had to sneak one little TTagshanksgiving link in…and this beautiful Geometric Meets Southwest post by Hostess with the Mostess was just the thing.  Aren't the peppers adorable?
Once Wed features a stunning Stained Glass Wedding Cake by the incomparable Maggie Austin.
Beautiful beautiful Beach Wedding with Vintage Touches from Polka Dot Bride.  The shoes! THE SHOES!  (And the cake…sigh.  I feature above.)
I love this idea that I spied on Wedding Tidbits: Wear Your Wedding Dress Again on Your First Anniversary.
Have a Delicious Week!
Photo Source
Read More:
leg warmers
,
wearing your wedding dress again
,
wedding preparation
,
wedding shoes