0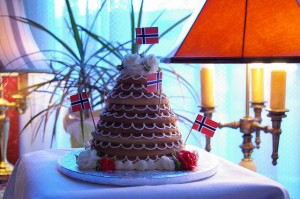 Since tomorrow is the American Thanksgiving let's stretch out our multicultural wings and talk about Norway. Specifically this Norwegian Kransekake Wedding Cake.
Although I have never heard of Kransekake until today…and I actually don't really know how to pronounce it…I think this cake is kind of awesome. In case you are wondering Kransekake is a Norwegian (duh) or Dutch cake that is served on special occasions like weddings, baptisms and holidays. It's made from almonds, sugar, and egg whites.
I'm not Norwegian, but I am assuming this couple was, but this thing looks amazing. I wonder if the Norway pavilion in Epcot has any of these in their bakery? Yum.
Read More:
epcot
,
kransekake
,
norway themed cake
,
norway wedding cake
,
norwegian kransekake wedding cake