0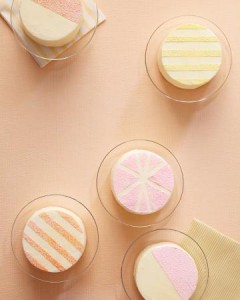 Oh Martha. Be still my heart you have done it again.
Of course Martha encourages you to bring out your Inner DIYer and try and make these bad boys yourself. If you are so inclined they are simple fondant or buttercream covered mini-cakes. Then the goddess of the frosting bag creates geometric patterns using colored sugar mixed with confectioner's sugar. Seriously, where is this colored sugar available for purchase? I want to use it on my Cheerios. You can do a variety of flavors, colors and designs on each cake. I also think you could get crafty and use the colored sugar and confectioners sugar combo on cupcakes. Yum. If your aren't so much into the DIY Wedding but love the look of the sugar on sugar I think this would look awesome on a crisp white fondant cake.
Click here to learn how Martha gets her DIY Glittery Mini Cake on.
Read More:
butter cream mini cakes
,
diy wedding cakes
,
diy wedding cupcakes
,
fondant mini cakes
,
geometric design wedding cakes
,
glitter mini cakes
,
glitter wedding cakes
,
martha stweart weddings
,
wedding mini cakes
,
white wedding cakes