0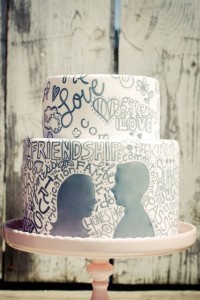 I'm a woman of many hats. I'm a mom, wife, blogger, teacher, sewer and DIYer. There are lots of things I like to do..and I spend lots of time on the interwebs looking for inspiration (lesson plans, sewing patterns, house decorating). Some might say too much time.
Recently I saw everyone talking about the Pinterest website. It took me a few weeks and then after a gentle nudge from my friend AJ at the Disney Food Blog I requested my invite. A few days ago I got my official invitation and it's been ALL downhill from there. There are wedding cakes ALL over that piece.
I have scoured pages & pages of wedding cakes. From big wedding websites, to small bakeries they are tons and tons and tons of cakes and I cannot wait to start featuring my favorites. So I am going to start here..with my new favorite wedding cake. If I were getting married this would be my cake..no doubt about it. (Of course..it would be modified to my face).
First let's talk color. Light Pink and Grey? Genius. I love all these new color combos that are popping up. Next let's talk design. I love the silhouette. I think another great cake would be gorgeous as just a plain pale pink cake with grey silhouettes..can you picture that? The words surrounding are words that described the couples relationship and marriage. The words were hand drawn on the cake. I cannot imagine how long that took. You can check out the website for some close ups of the inscriptions. My favorite is the heritage tree. What is yours? Also, is that cake stand vintage? It may be faux-vintage but either way it really adds a lot to the cake.
This cake was made by Sweet and Saucy Cakes out of California. Take a look at some of their other creations..they are simply amazing!
Read More:
grey and pink wedding cakes
,
silhouette cake
,
Sweet and Saucy Shop
,
words on wedding cakes