0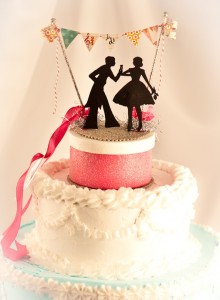 I fell in love with the concept of using a silhouette on cake when I first laid eyes on this cake by Melody Brandon of My Sweet and Saucy. I just adore the use of silhouettes on wedding cakes now and every time I see a new one I get all kinds of excited.
Oh but wait…let's double that excitement by turning it into a cake topper! I'm sorry…I have to say it. How freaking adorable is this topper? Obviously I am in love with the silhouette concept–but add the adorableness of the grooms popping the question and I'm hooked. Check out that big rock by the way! I'd marry him too. This topper is made by Over the Top Studios on Etsy. If you like it you can check it out here. It's placed on a silver German Glitter stand that makes it super classy. Let's talk about that bunting. This is one of those trends that almost made my list last week that I am just LOVING. The Bunting Flags add some color and a little bit of vintage charm to the topper.
Visit the Over the Top Studios here.
Read More:
bunting cake toppers
,
etsy
,
etsy cake toppers
,
handmade cake toppers
,
silhouette
,
silhouette cake toppers
,
summer cake toppers
,
vintage cake toppers