0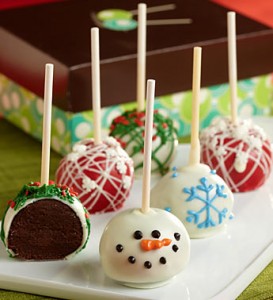 To quote one of my very favorite Christmas movies, "Deck the harrs with bows of horry, Fa ra ra ra ra ra ra ra ra! 'Tis the season to be jarry, Fa ra ra ra ra ra ra ra ra!" In case you're missing something go ahead and tune into TBS and watch The Christmas Story for 24 hours this Christmas Eve. You'll get it.
Since Christmas is among us I decided it's high time we Christmas it up here on AWCB. Today I'll be featuring my favorite Christmas cake pops from around the interwebs. Cake pops are everywhere. I even saw a kit in Target today that you can use to make your own. From winter-themed to Santa's hats…I've put together a little collection of my favorites that would be perfect for a Christmas-themed wedding or party. Click the links to take you directly to the sources where I found them.
We must start with the Goddess of all things baked – Bakerella and her adorable Rudolf Cake Pops.

Perhaps you are looking for something that doesn't reach up, slap you in the face and say jingle bells.  If so, try these subtle holly inspired chocolate cake pops from Sweetopia.
Let's head back to the Bakerella and talk about these Santa Hat Cake Pops. Seriously, too adorable…and kind of amazing. That look some serious sculpting skills.

See those adorable cake pops featured at the top?  They aren't actually cake at all. In fact they are chocolate truffles. You can even purchase them here. Don't mind if I do!
Which one is your favorite? I am kind of partial to the Rudolf cake pops myself. Something about them just gets me in the spirit. Plus, chocolate and pretzels? Yes please!
Read More:
bakerella
,
cake pops
,
chocolate truffles
,
christmas cake
,
christmas cake pops
,
snowman cake pops
,
wedding cake pops
,
winter themed cake pops