christmas cake pops
0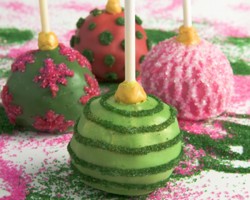 It's beginning to look a lot like Christmas, and with the holiday just a mere five days away I wanted to find a very festive wedding favor.
I think these holiday ornament cake pops fit the bill.
These favors would add a perfect holiday POP to your winter or holiday-themed wedding, don't you think? Read More
0
To quote one of my very favorite Christmas movies, "Deck the harrs with bows of horry, Fa ra ra ra ra ra ra ra ra! 'Tis the season to be jarry, Fa ra ra ra ra ra ra ra ra!" In case you're missing something go ahead and tune into TBS and watch The Christmas Story for 24 hours this Christmas Eve. You'll get it.
Since Christmas is among us I decided it's high time we Christmas it up here on AWCB. Today I'll be featuring my favorite Christmas cake pops from around the interwebs. Cake pops are Read More