snowman cake pops
0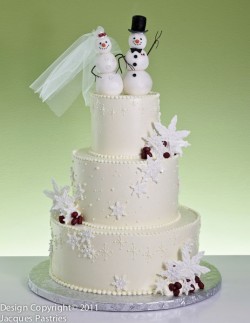 After sweltering and nearly melting in last week's heat wave, I had to find a cake that made me think of cooler temps, and this super cute Snowman Couple cake is it!
I love the simplicity of the cake itself – just white frosting and some gorgeous snowflakes accented with red berries which make the whole cake just pop!
But what really made me smile were the adorable snow people standing atop the snowy white cake. Seriously – how cute are they, dressed in their snowperson wedding best? Who knew Frosty could be so handsome? Read More
0
To quote one of my very favorite Christmas movies, "Deck the harrs with bows of horry, Fa ra ra ra ra ra ra ra ra! 'Tis the season to be jarry, Fa ra ra ra ra ra ra ra ra!" In case you're missing something go ahead and tune into TBS and watch The Christmas Story for 24 hours this Christmas Eve. You'll get it.
Since Christmas is among us I decided it's high time we Christmas it up here on AWCB. Today I'll be featuring my favorite Christmas cake pops from around the interwebs. Cake pops are Read More