0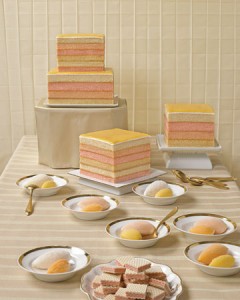 The week before Christmas.  Is your hair on fire, like mine?
What a beautiful time of the year, when we remember hope and excitement and a thousand other things that make life sparkly and fun…that is, if we don't wear ourselves out in the process.  So my hope for you this week is that, at some point, you can grab a cup of cocoa, filled to the brim with marshmallows, sit in front of your Christmas tree, or by candlelight or glow of a fire, and just be.
It's a crazy week for me too, so let's do this.  And we'll start with The News:
Kenyans, it would appear, are favoring "white," or Western-type, weddings, over indigenous ones, and business is booming.
I know that no one reading THIS blog has ever loved and lost 😉 but if you're interested in hearing how the other half might live, you'll want to catch the latest version Charles Dickens' Great Expectations...complete with Gillian Anderson and a mouldy wedding cake.
Ever wondered what Queen Elizabeth's and Prince Philip's wedding cake was like?  Thanks, Google!
Did you know that Istanbul ranks as the world's top location for weddings?  Neither did we.
And now for a little Sweet and Pretty:
We love this idea for personalized and signature cocktails for your wedding reception.  From The D Tales.
I love the black and white contrast of the beautiful little mico veil featured in this Tessa Kim post. Tessa and her beautiful creations are once again featured in Utterly Engaged Magazine!
Here's a pretty autumn Columbus wedding that featured a beautiful cake.  The wedding was coordinated by Bliss Wedding and Event Design.  The whole party was captured beautifully by Simon Yao.  We are lovin' this stellar, elegant cake, with special recognition of that incredible, to-the-last-detail cake table!
Need some inspiration for the holidays?  It's not too late.  See what fires up Rosie from Sweetapolita, and check out her adorable peppermint twist wedding cake.
Advice for all of you out there who are doing the wedding thing for the second time.  From Broke Ass Bride.
I'm all about the un-Christmas right now where cakes are concerned, to give you a little contrast.  Check out this incredible cake from Martha Stewart weddings.  They've eschewed icing, in favor of lovely, pastel-tinted cake.  Fantastic.
Have a delicious week!
Read More:
autumn wedding
,
charles dickens great expectations
,
holiday cakes
,
Istanbul
,
kenya weddings
,
micro veil
,
naked wedding cakes
,
peppermint twist cakes
,
prince philip
,
Queen Elizabeth II
,
Red and white cakes
,
seattle designers
,
second wedding advice
,
signature cocktail
,
tessa kim
,
wedding cakes without icing
,
weddings in kenya