2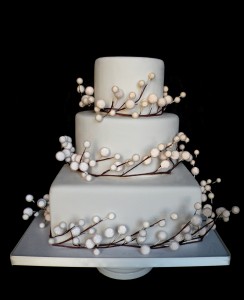 Happy December, Y'all!  We hope that you're having as much fun as we are with this holiday season!
Last night, we celebrated an early Canadian Christmas with good friends.  Keith, you see, grew up in Canada, and Robin keeps some of the fun traditions alive every year.  In the past couple of seasons, we've gotten in on the fun.  Tourtiere, a hearty French onion soup topped with a wonderful Gruyere, potatoes au gratin, and, for the first time, a buche de noel!  And we can't forget the fabulous French wines.  Yum!  It's a special time for our families to come together, and just be, laugh over poppers, and hear one another's stories.  We treasure it.
I hope that you and yours are observing some time-honored traditions.  If not, well, hop to it and make some!  There's no better time than the present!
Time to look around for some lovely weddingness.  But first, as always, lets look at The News:
Outspoken Irish crooner Sinead O'Connor weds for the fourth time this week in Las Vegas.  Let's hope the fourth time is the charm, yes?
Occupy Wall Street inspiring…love? You betcha, as Aaron Spagnolo and Nanore Barsoumian exchange vows in front of a thousand or so of their new friends.
I can totally relate:  couple holds their wedding at Starbucks. Yess!
This week, I praised – nay, gushed about – this beautiful bare branches cake by Jenniffer at Cup A Dee Cakes in Northern Georgia.  I love the seasonal aspect of it.  Here, I'm taking a look back at our Top Five Seasonal Cakes!
This winter berry cake is a love sight to behold…just the right mix of white and stark, with just a teensy bit of sparkle.
A lovely Nutcracker themed cake sweeps away the gloom of the dark winter with metallic finish and fun ethereal snowflakes.
Christen shared this pretty cake, trimmed in her favorite flower, Gerbera daisies, in honor of spring.
Nothing says summer better than bunting and dancing…and this adorable pretty-as-a-pink-party cake holds the promise of both!
Our post on fall themed wedding cakes gives you lots of pretty and one spot – and bonus! – links to our feature on Halloween-inspired wedding cakes, too!
And now, for some Sweet and Pretty from some of our favorite people!
Y'all know I'm a closet minimalist, yes?  Well, sometimes, anyway.  I am in LOVE with these fantastic cakes by Superfine Bakery.  Fan. Tas. Tic!  I mean, why would you add a single thing to perfection?  I want to get married all over again.  This instant.
A beautiful Mojave Desert wedding. I love the succulents and polished stones that garnish the simple cake, and the last pic of the bride and groom, captured in a moment of tenderness, is not to be missed.  From Ruffled Blog.
A wedding that involves groomsmen in big black cowboy hats?  Yes please.  Emma and Tim's wedding in Cheyenne, Wyoming, courtesy of WyoWeddings.
From LoveMyDress, a bridal gown...made of flowers.
I went in search of "trash the dress" inspiration today, inspired by the recent Lady Antebellum cover shoot (hey…I figure that wearing my wedding dress on the beach is as close as I'm ever going to get to Hilary's look.)  I found this lovely shoot by Julie Dreelin Photography.  What do you think…is 10 years hence too late to don a wedding dress and go play on the beach?
Have a Delicious Week!
Read More:
bare branched cakes
,
beach trash the dress
,
canadian christmas
,
fall wedding cakes
,
gerbera daisies
,
mojave desert weddings
,
nutcracker wedding cakes
,
occupy wall street weddings
,
seasonal wedding cakes
,
sinead o'connor
,
snow berry wedding cakes
,
spring wedding cakes
,
starbucks weddings
,
summer wedding cakes
,
trash the dress
,
wedding gown made of flowers
,
winter wedding cakes
,
wyoming weddings