0
Posted on January 21, 2012 by Brooke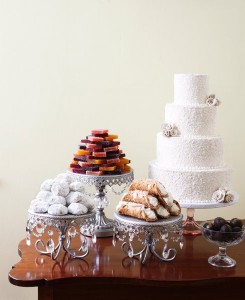 You had me at pate de fruit.  No.  Seriously.
Because we love love LOVE! the sweet and pretty around here, we spend an inordinate amount of time gazing at pretty cakes.  Sometimes we tire of our usual haunts and look for fresh perspective.
That's how I found this cake and accompanying sweets table, which maybe made me jump up and down, clapping, like a little school girl.  Just a little.
I love this simple dessert table.  No, the from-scratch cannoli, wedding cookies, truffles, and pate de fruit weren't simple to make by any stretch.  But there isn't any, well, clutter.  Just a few well chosen treats, all interesting.  All from different countries.  All mouth-wateringly stunning before you even take a bite.
And speaking of pate de fruit.  Have you had it?  Jewel-like, sugar-crusted candies, made from the essence and beauty of fruit. Beautiful to see.  Beautiful to taste.  Fun to say! (Say it with me!  pat duh fwee.  Fun! Oui Oui, Non?) And not available at every roadside stand, which makes it a little special.
But let's not forget that cake!  The four-tiered beauty is the handiwork of Palmer's Bakery in Darien, Connecticut.  Apparently, the bakery occupies a charming little corner of Palmer's Market.  I went in search of a description of the cake, because I LOVE the texture, and I wanted to know more.  And I love what I found!  "Delicious buttercream coated with sparkle sprinkles."  First pate de fruit, and now sparkle sprinkles!  I need a trip to this Wonderland Confection this minute.
So…think white cake is boring?  Whatevs.  Because sparkle sprinkles, Darling, make EVERYTHING fabulous.
Other Posts You May Enjoy:
Read More:
cannoli
,
connecticut wedding cakes
,
palmer's bakery
,
pate de fruit
,
sparkly wedding cakes
,
Sweets Tables
,
truffles
,
wedding cookies
,
white wedding cakes
,
winter wedding cakes
Recent Posts