0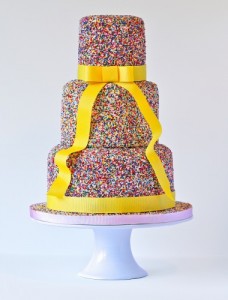 I'll admit, when I think of the typical wedding cake the first thing that comes to mind is white frosting and flowers.
But I'm always looking for something new and fun and well, I think I found it with this cake! There's nary a spot of white frosting to be found because the entire cake is covered with rainbow sprinkles! Honestly, how fun and festive is this cake?
Sure, it doesn't look like a wedding cake, but that's the charm. In today's Pinterest-fueled world of wedding planning this cake would certainly be the show stopper at your reception.
And if the rainbow sprinkles weren't enough, the bright yellow ribbon ties it all together perfectly. Imagine how happy your guests would be when they saw this cake!
I found this super fun cake here. The cake was designed by Swirls Bakery in the United Kingdom.
Read More:
colorful wedding cakes
,
fun wedding cakes
,
rainbow sprinkles
,
round wedding cakes
,
sprinkles wedding cakes
,
yellow
,
yellow ribbons
,
yellow ribbons on wedding cake