navy blue wedding cakes
0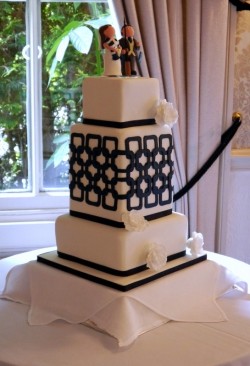 I leapt at the chance to feature this beautiful cake by Cakes By Beth in Manchester, UK.  Isn't it gorgeous?
When Beth originally met with the bride and groom, they had very few specific ideas about how they wanted their cake to look.  They knew they wanted four tiers and something simple in design that incorporated navy blue ribbon, but that was the extent of their input.  Enter Beth and her brilliance!  She suggested this geometric design of overlapping squares, reminiscent (to me, anyway) of a Chippendale motif.  And though she was prepared for the couple not to love the idea…they did!  Two of the original four layers became Read More
0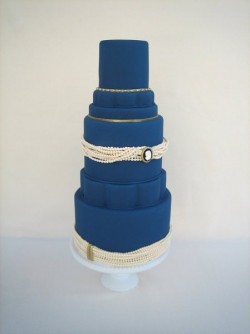 I'm a Pearl Girl, y'all.  And my favorite color?  That would be blue.  So, yes.  This is one fantastic cake.  Silver and blue and pearls, oh my.
Navy blue fondant.  Six tiers of varying height, with a couple of scalloped-edge layers thrown in.  And those pearls?  I believe those are handmade.  Can you even fathom how long those strands took to create?  What a classic and preppy cake.  Wouldn't it be so awesome to see the wedding that it went with?
This lovely showstopper Read More
0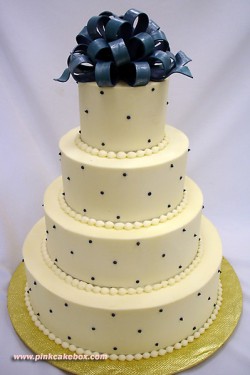 I made mention to it earlier this week but Navy is my color for 2012.  I don't know why but suddenly Navy is popping up all over my wardrobe and in my house.  I just adore it.  It's not a shocker that this love has transcended into Navy Wedding Cakes.  I searched and searched for my first Navy cake feature.  And then I found this Navy Blue Bow Cake made by The Pink Cake Box, a baker we just love to feature here on AWCB.
This cake has four tiers and is a round cake.  The cake is chocolate ganache and covered in white buttercream.  The Navy comes in the form of an adorable swiss dot pattern all over the cake.  And that bow.  The show stopping fondant Read More