6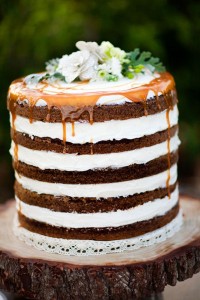 I wanted to entitle this one "Naked Cake."  But I didn't know how Google might handle that.
I look at a LOT of wedding cakes, Dear Readers.  So I see a lot of trends.  Some trends are, well, trends.  Some "trends" are things that start out adorable, but after you've seen them twenty times, well…not so much.
The use slices of tree trunk to signal "I am rustic" is starting to kinda fall into that category for me.  However, I had to show you this one, because 1) it's beautiful; and 2) it looks mouthwateringly delicious.
Now, we know that many, many of the cakes we feature here on A Wedding Cake Blog are, in fact, mouthwateringly delicious (or were, anyway.)  But how often do you see the proof of it?
There is nothing that I don't love about this cake, from the symmetry, to the doily, to the coronet of wildflowers, and back down to the drizzle of caramel.  And yes, even the slab of tree trunk.  Because I have a feeling that in this case it was absolutely perfect for the setting.
How do you feel about naked cakes?  Yay or nay?  Do you think they're fancy enough to commemorate your Big Day?
Read More:
caramel cakes
,
fresh flower cake toppers
,
fresh flower wedding cakes
,
naked wedding cakes
,
small wedding cakes
,
un-iced wedding cakes