0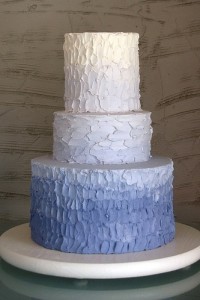 How do we feel about a rustic approach to icing, y'all?
Personally, I like it.  Don't get me wrong.  A perfectly coiffed cake is sigh-inducing for sure.  Still, there's something so charming about swishy swirls in icing – or should I say frosting? – don't you think?  Like, I could totally have made this (or at least I can more easily imagine that I made this, versus a towering statue of perfectly fondanted cakery art.)
ANYWAY – it's blue.  It's ombre.  It's got two snazzy double-height layers.  So I was totally gonna feature it.  I love the almost-periwinkle hue, and I love that the swooshes go in different directions.  This is a lovely cake.  I'm thinking I need one of these for my next birthday for sure.
Read More:
blue ombre wedding cakes
,
Blue Wedding Cakes
,
buttercream wedding cakes
,
double height tiered wedding cakes
,
ombre wedding cakes
,
rustic iced wedding cakes