0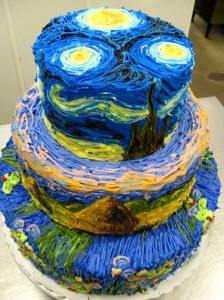 This is not to say that Vincent Van Gogh made this cake.  Nor am I implying that the cake was made for the long-departed, troubled, and fabulous Post-Impressionist artist.  (Post-Impressionist, not Impressionist.  Know your art history, Lovelies.)
This is to say that I LOVE this cake.
How fantastic is it?  At once, recognizable as inspired by one of Van Gogh's most famous works.  But the feeling of movement, the energy, the texture, the colors – all spot on.
We espied this fantastic cake on Pinterest, and did a little research, hoping to find its creator, but we were ultimately unsuccessful.  If you know who created it, please, let us know.  We'd love to credit their work.  Even more than that, we'd really like fawn over them and see what else they have created.
Thoughts?  Do you love food inspired by art?  Share a comment.
Read More:
a starry night
,
art wedding cakes
,
Blue Wedding Cakes
,
painting wedding cakes
,
post-impressionism
,
post-impressionist art
,
starry night cake
,
van gogh cake
,
vincent van gogh