2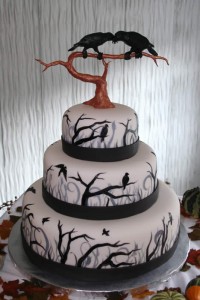 It's that time of year again!  No, not back to school or summer ending or fall beginning.  It's the time of year when I start looking for crazy and fabulous seasonal wedding cakes!  And since I'm already finding TONS, I had to go ahead and give you a preview of the stash with today's post – the Raven Wedding Cake.
This. Is. Fantastic.  Elegant, yet spooky.  Classic, yet macabre.  I love the blacks and greys and realism of the whole thing, and even though you know it's a little foreboding and prickling-in-your-thumbsish, it's still sweet, since our ravens are also clearly lovebirds.
Nevermore? Whatever.  Forevermore.
(We found this one on Pinterest.  If you know the cake artist, please share in comments!)
UPDATE:  Reader Tina found the artist for us!  Maine Custom Cakes designed this lovely cake.  Check them out!
Read More:
autumn wedding cakes
,
bird wedding cakes
,
black and grey wedding cakes
,
Black Wedding Cakes
,
fall wedding cakes
,
gray wedding cakes
,
grey wedding cakes
,
literary wedding cakes
,
october wedding cakes
,
seasonal wedding cakes
,
spooky wedding cakes
,
tree wedding cakes