0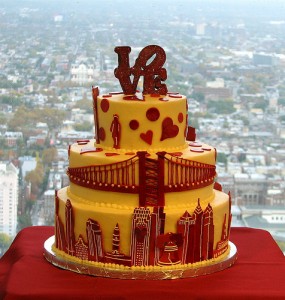 I'll admit I don't know much about Philadelphia. Rocky, cheese steak sandwiches, and that it's where the Fresh Prince was born and raised. (And spent most of his days on the playground from what I hear).
Another thing I know about Philadelphia is that is home to the LOVE statue. You know the one.I learned something new about Philadelphia today. Robert Indiana's LOVE sculpture and the city of Philadelphia inspired this gorgeous wedding cake. This three tiered round wedding cake boasts the Philadelphia city scape on the bottom tier. The second shows off one of the city's most famous bridges. (Side-note: I tried to research to find out which bridge it was but I am no bridge expert. Fun fact that this Southern girl did learn. Philadelphia is about 2 seconds from New Jersey. Who knew?) But we can't forget the gorgeous LOVE sculpture cake topper, can we? If you put this cake in front of a chain link fence it would still be gorgeous..but OH MY doesn't the backdrop of the city of Philadelphia really put this cake over the top?
I'll see you later because all of this Philadelphia research has inspired me to book a trip. While I am there I will also plan a visit to the Whipped Bakeshop, creators of this gorgeous cake!
Read More:
LOVE Park
,
LOVE sculpture
,
LOVE sculpture wedding cake topper
,
LOVE wedding cake toppers
,
philadelphia bakers
,
philadelphia themed wedding cake
,
philadelphia wedding cake
,
red wedding cakes
,
Robert Indiana
,
the whipped bakeshop