0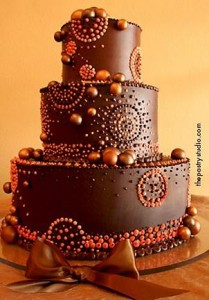 Omistars in heaven above.
Really – why do we think that chocolate should be relegated to the groom's cake?  Let's be honest.  The brides do all the work.  The brides starve and sweat their brains out in exercise classes to fit into that dress, and it's the brides who avoid all those "illegal" foods leading up to the wedding so that they are their blushing, rosy perfect selves.
So seriously…WHO deserves chocolate at that wedding reception MORE THAN THE BRIDE?
And if our fair bride will be indulging in this decadent treat, she should have the very best, like this incredibly sumptuous cake, made by our friend Sherri Meyers of The Pastry Studio in Daytona Beach, Florida.
Shades of copper, orange, and brown complete the circular star-burst motif.  This is the kind of cake that makes you want to dance, barefooted, on the moonlit beach, long into the night, yes?
Please go visit Sherri's website.  It's so pretty, I promise you will swoon, and you'll most likely leave craving something decadent.
Read More:
brown wedding cakes
,
central florida wedding cakes
,
chocolate ganache wedding cakes
,
copper wedding cakes
,
florida wedding cakes
,
star burst wedding cakes
,
warm colored wedding cakes