0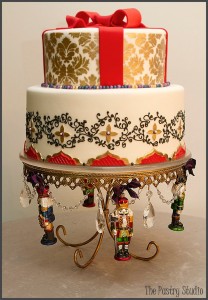 I don't know about you and yours, but around our house, we love The Nutcracker Suite. It's become quite the little tradition in our family, playing the music, watching the video (I favor the old Baryshnikov version), and using the lovely decorations to dress up our home. Even my one year old has become fascinated with moving the soldier's mouth back and forth.
So, of course, I had to share this beautiful cake with you.  Inspired by The Nutcracker, this gilded beauty is the handiwork of The Pastry Studio in Daytona Beach, Florida. From owner and executive pastry chef Sherri Meyers, I learned that the festive cake was actually baked for a ballerina performing in The Nutcracker.  The flavors – ahMAzing – were chocolate truffle and Southern hazelnut praline.  Ummm…may I my order in right this second?
Now, Sherri Meyers and her talented team have been producing some of the loveliest cakes in Central Florida for more than ten years now.  Her shop is SERIOUSLY adorable.  But she has another claim to my heart….Sherri designed and produced my wedding cake a decade ago, and it was truly the star of our reception.  So I know firsthand just how fabulous her cakes are.  View her website to see all the sweet and pretty.  And then run.  Run to them.
Read More:
central florida wedding cakes
,
christmas cakes
,
Christmas Wedding Cakes
,
daytona beach area cake artists
,
florida cake artists
,
gilded wedding cakes
,
gold and red wedding cakes
,
nutcracker cakes
,
nutcracker wedding cakes
,
pastry studio
,
sherri meyers
,
winter wedding cakes