0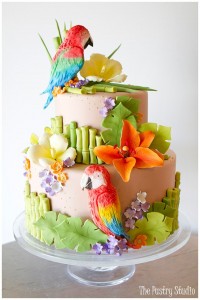 You want colorful?  Oh, we can do colorful.
I am full-on in the throes of summer, y'all.  I mean, I want to cruise.  I want to put the earbuds in and read a novel.  I want to swing in a hammock with nothing but the view through my Maui Jims.
This Jimmy Buffet-Inspired cake, by Sherri Meyers and her incredibly talented staff at The Pastry Studio in Daytona Beach, Florida, suits me just fine today.  And everyday, in fact.  Sherri made the cake for a wedding shower, and I have to say it:  that had to be one fun party.
Sugarpaste parrots, tropical florals, and bamboo complete the lush look.  And the flavors?  The small tier is red velvet (the couple's favorite) and the larger one for sharing was made with a key lime filling.  Sign.  Me.  Up.
Read More:
beach wedding cakes
,
bird wedding cakes
,
colorful wedding cakes
,
florida wedding cakes
,
jimmy buffet wedding cakes
,
parrot wedding cakes
,
tropical wedding cakes