2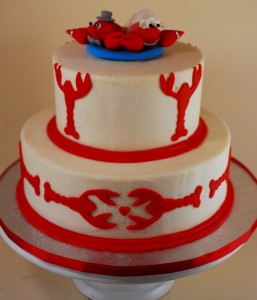 You know the episode.  Of course you do!  Ross.  Rachel.  Phoebe and the lobsters.
Well, Jenniffer from Cup a Dee Cakes in Georgia (see!  I told you to stay tuned for another fabulous Cup a Dee cake!) likes to think that episode is the idea behind this one.  And I (and a couple million of my closest friends who were also glued to the TV on Thursday nights in the nineties) would like to agree.
While Jenniffer says the cake was a budget-friendly option for the couple, we think they and she did a stellar job pulling together this adorable one, presumably on a shoestring.  I'm going to go out on a limb (and trust Jenniffer to correct me if I'm wrong) and say that that is lovely, fluffy buttercream, with perfectly perfect red lobsters cut out of fondant, with fondant trim to match.  The couple also purchased a custom cake topper to carry out their crustacean theme.  I love it!  If it has a downside…it is only that it leaves me craving…lobster.  But that's not necessarily a bad thing.
Check out the other beautiful cake that Jenniffer made for this couple.  We featured this Whimsical and Wonky Rectangular Wedding Cake earlier this week.
Which is your favorite?  Leave us a comment below!
Read More:
"Friends"
,
beach themed wedding cakes
,
lobster themed cakes
,
red and white wedding cakes
,
white groom's cakes
,
white wedding cakes