0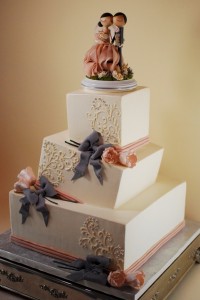 When the wonky wedding cake debuted in the nineties we were all taken aback with by its cuteness and whimsy. This style of  cake, which had asymmetrical layers and looked like something right out of Alice in Wonderland, defied gravity to stay upright.  It was a breath of fresh air.
Nowadays, we've seen lots of wonky cakes.  Some are well executed; some, not so much.  But when I saw this one by Jenniffer of Cup a Dee Cakes in Georgia, I really considered the genre redefined.
I had never seen a square wonky cake!  And this one's wonkiness is definitely understated; you almost miss it unless you look closely.  It doesn't have that…deliberate, contrived look.  Jenniffer says that this young couple had very set ideas about what they wanted their cake to look like, and while they wanted the playful look of the leaning layers, they wanted the top layer to be level.  She created this look by making an angled well in the cake.  Genius!  The cake was then finished in buttercream, scrollwork (love!), fondant ribbon, gumpaste tulips, and fondant bows to give it polish, and to tie in the adorable custom caketopper that the couple chose.
We've featured other Cup a Dee works such as Jenniffer's Peony Wedding Cake, as well as this Bare Branches Wedding Cake.  Stay tuned for a pretty adorable groom's cake from Cup a Dee in the near future!
Read More:
custom cake toppers
,
Georgia wedding cakes
,
square whimsical wedding cakes
,
square wonky wedding cakes
,
whimsical wedding cakes
,
white wedding cakes
,
wonky wedding cakes