0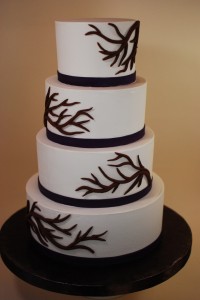 We're gearing up – or maybe you're already in full throttle – for the spectacularity that is the Winter Holiday Season – Merry Christmas and Happy Holidays to YOU!  But do you remember the old days?  The days when Christmas didn't start five minutes after you pushed back from your Thanksgiving seconds?  Or – shudder – right after the Labor Day picnic?
Am I showing my age?  Sigh.
Well…all of that to say that I do remember such a time…a time when you thought…hmm…it's not fall, it's not Christmas…it…just…is.  No pretty leaves, no super crazy snow.  Just beautiful bare branches against the crisp, dry air, as you await the hope and joy that the Holiday Season brings.
This, my dear friends, is why I love this cake.
Jenniffer at Cup A Dee Cakes – my Southern baker girl crush – is responsible for this exquisite confection.  Stark, flawlessly smooth buttercream – YES!  buttercream! – serves as the backdrop to perfectly uniform, assymetrically-placed tree branches, made of modeling chocolate.  The ribbon trim is also molded from chocolate.
This is truly one of my most. favorite. cakes. ever.  Why?  Because it is perfect in its simplicity.  Jenniffer didn't need to distract your eye with frills (and yes, I love me some frills…) because, well, that wasn't the vision, was it?
But…and it's the chef in my, I'm afraid…if I were to make changes…maybe for a bride who loved this cake, but wanted something just slightly different…well then, imagine how stunning a little sparkle or shimmer would be on those branches for a January cake?
Sigh.  Cake heaven.  Good stuff.
Read More:
autumn wedding cakes
,
branches wedding cakes
,
brown and white wedding cakes
,
Cup a Dee Cakes
,
fall wedding cakes
,
Georgia wedding cakes
,
seasonal wedding cakes
,
white wedding cakes
,
winter wedding cakes