0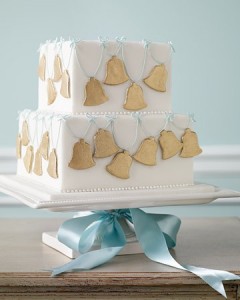 We still say that wedding bells are ringing…but when did you actually last hear some?
Well, even if churches don't still come with nifty bell towers (and lots of people don't even get married in churches these days), it's still a quaint thought.  And this cake celebrates that notion bee-autifully.
Two square tiers, flawlessly covered in white fondant and trimmed with an edge of tiny white dots are then embellished with bells, cut out from more fondant, painted with edible gold dust, and "strung" on a buttercream icing ribbon.  What a darling cake!  It actually seems fairly small, and I love when people put the same attention to detail into a cake for a small get-together that they do for a larger one.
If I were to change anything – for the sake of inspiring YOU, I share this – wouldn't sugar cookie cutouts of bells on a buttercream cake be adorable?  I think it would give this a lovely, homespun feel that would be just so right for a small, intimate, casual summer wedding.  This lovely cake was made by Lovin Sullivan Cakes in New York for Martha Stewart.
Read More:
baby blue wedding cakes
,
fondant cutouts
,
fondant wedding cake
,
gold wedding cakes
,
martha stewart wedding cakes
,
new york wedding cakes
,
nyc wedding cakes
,
simple wedding cakes
,
small wedding cakes
,
traditional wedding cakes
,
wedding bells cake
,
white wedding cakes