0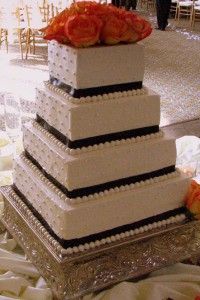 I debated using this cake – I've had it in my folder for a while – because it's a little old school (Old School here having the mean of 2007.)  And you know what?  I'm gonna do it.  'Cause it's not getting any younger, and it's well done.
What do I like about this one?  It's neatness.  Simple cakes can go horribly wrong.  Fast.  Fondant can bubble, buttercream can look not smooth enough, edges can be cockeyed.  But this cake is perfect.  Square, the piped dotted trim is perfectly uniform and symmetrical, the ribbon is neat.  And those square edges?  Not so easy to achieve.
This would be a great base cake for a baker to have in his or her repertoire.  The possibilities for customization are infinite.  And it's nice to see a buttercream cake once in a while.
Do you like this roses cake?  How would you top it?  Leave me a comment and let me know!
Read More:
orange wedding cakes
,
roses wedding cakes
,
simple wedding cakes
,
white wedding cakes