0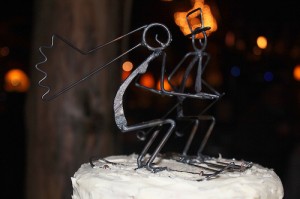 So, not an easy title to write, when your cake topper features both a snow boarding bride and a snow skiing groom.
Lizzie and Chris both love the slopes in Vermont – so much so, that they actually teach snowboarding and skiing, respectively.  Their adorable wedding actually took place on the slopes – attendants all either snowboarded or skied to their posts! – so it was only fitting that their cake feature figures who were doing the same.
Super cute, this is.  On top of that (no pun intended), Bride Lizzie baked and iced the cake, which was a pound cake with buttercream frosting, and, as luck would have it, resembled a snowy field.  Perfection!
Here's to cute, and here's to a cake topper that really grabs the spirit of the couple.  

Read More:
ski weddings
,
skiing cake toppers
,
snowboarding cake toppers
,
snowy weddings
,
sports cake toppers
,
vermont weddings
,
winter cake toppers
,
winter sports cake toppers
,
winter white weddings