0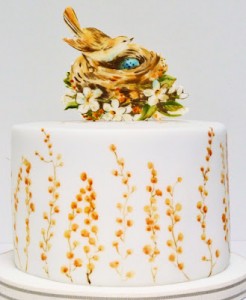 This cake is vintage and gorgeous and I am in love! Amelie's House is responsible for this wonderful concoction. They actually designed and made it for a baby shower but I think it would make a beautiful cake for a wedding (or a bridal shower).
Around the cake they painted a mimosa border (the flower not the delicious drink) because the featured refreshment at the shower were mimosa cocktails (yum!). But this cake isn't all about the decor. The actual cake itself was gooseberry and elderflower flavored and apparently these flavors complemented the mimosa cocktails quite well!
We've featured other cakes by Amelie's House here. And if this post wasn't enough to give you your bird cake fix for the week check out this feature we did a short while back.
Read More:
bird cake
,
circle cakes
,
vintage cake
,
wedding cake