4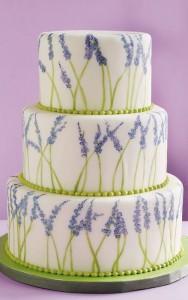 Anybody out there planning a summer wedding with a Provençal theme? You're welcome.
I saw this today on Pinterest and just had to show it to you.  Sadly, I have no idea who the cake artist is, but I couldn't let that stop me.  If you know, please leave a comment and tell me who made this, because I would love to credit him/her.
But back to the cake.  Isn't it lovely?  The hand painted lavender is absolutely beautiful, but I also love the beaded border that matches the stalks of the lavender perfectly.  The top of the cake board is the same color.  I think it's pretty awesome when a baker pays attention to such details.
What do you think of this one?  Love it, like me?  I thought you would.  

Editor's Note: Thanks to AWCB reader Tina for this information: "According to this site 'This cake was designed by Jolly Be Bakery and the photo was taken by Alexandra Grablewski Photography.'"
Read More:
lavender wedding cakes
,
provencal wedding cakes
,
purple and green wedding cakes
,
seasonal wedding cakes
,
summer wedding cakes
,
white and purple wedding cakes