1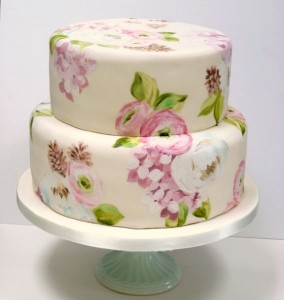 Happy Happy Spring!  That is what this cake says to me!
I found this incredibly beautiful, demure little cake on Pinterest, but it was posted there from Amelie's House (byline: "a makey-bakey-cakey place.")  I think I have found yet another UK love interest.
I LOVE pink.  I LOVE pink wedding-y things.  And painted cakes?  Are the bees' knees in my book.  Really?  Don't you just want to leave work behind today, put on a pretty pink dress and cardigan, gather some flowers and friends, and have a tea party?
You know, just yesterday, my daughter announced that we were having a tea party with her friends on May 21.  I told her solemnly that, if we were having a tea party, then the girls invited had to dress in their best, and we would observe gracious manners.  And now, in addition to the tea sandwiches, I think I have the inspiration for the cake.
Read More:
floral wedding cakes
,
girly wedding cakes
,
hand-painted wedding cakes
,
Pink wedding cakes
,
pretty wedding cakes
,
UK wedding cakes