2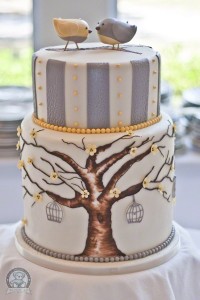 It's one thing to see a cake which features details that prove that the cake artist is well-versed in the culinary arts.  But it's quite another when the baker also proves that she is an artist in the true sense of the word.  Today's featured cake shows just such a gift.  We actually linked to this beautiful hand-painted cake by Dream Day Cakes of Gainesville, Florida, in our Let Them Eat Cake Round-Up last May, but it's so special, we thought it deserved its own post.
Notice the details:  both the tree on the bottom tier, as well as the branch that the bird cake toppers are "perched" on, were handpiped meticulously by baker and cake artist Yeni Monroy.  Fred from Dream Day Cakes tells me that Yeni was so inspired while creating the cake that she spent the day chirping while completing the masterpiece!  The cake itself, was an eight-inch round tier, placed upon a double-tier ten-inch round.  The extremely hip color combination of yellow and grey (grey is still SO hot!) is featured prominently on the cake, as is the love birds motif, from the toppers to the tiny bird cages suspended from the tree branches.  And to provide a contrast to the bare branches, notice the tiny gumpaste flowers scattered across the tree, which lend to the texture and depth of the work.
See other stunning examples of Yeni's work at Dream Day Cake's website.  We are big fans, and we think you will be, too!
Read More:
bird cage wedding cakes
,
bird wedding cakes
,
branches wedding cakes
,
dream day cakes
,
florida wedding cakes
,
gray wedding cakes
,
grey wedding cakes
,
hand-painted wedding cakes
,
love bird wedding cakes
,
small wedding cakes
,
tree wedding cakes
,
yellow and grey wedding cakes
,
yellow wedding cakes