0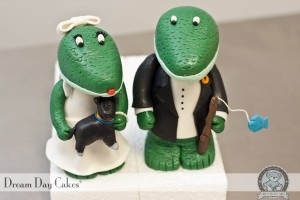 So…full disclosure:  I am not so much a Florida Gators fan, even though I live right here in Gator Country.  However, when in Rome, yes?
Aren't these darling?  These Gator cake toppers pay homage to the University of Florida mascots – and maybe the alligator that lives in your pond out back, too.
I love these cuties, though!  The colors are vibrant, and the little tux and wedding dress are adorable!  Yeni at Dream Day Cakes in Gainesville, Florida (yes, home to the Gators) knows how to celebrate the hometown team.  She has several examples of Gator cakes in this post – check them out!  Which is your favorite?  I heart the Gator enjoying a frosty top beverage!
Check out Dream Day Cakes' website for more examples of their beautiful work!  You can see other Dream Day Cakes we have featured too, like this hand-painted love birds wedding cake, and this orange and green bubble wedding cake.
Have you seen other cakes toppers featuring beloved school mascots?  What do you think of this trend?  Leave a comment below!
Read More:
cute cake toppers
,
dream day cakes
,
florida cake toppers
,
florida wedding cakes
,
gator cake toppers
,
school mascot cake toppers
,
wedding cake toppers