0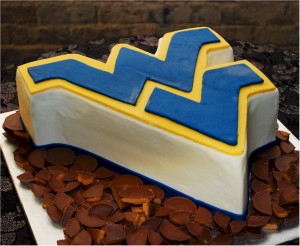 So…this one is a wee bit…self-serving.
Well, less self-serving than "Hey, y'all, I may live in fab-o Florida now, but I am a proud Mountaineer by birth, and once a West Virginian, always a West Virginian."
Ahem…too much info?
You see, we're kind of a little state, often maligned (unfairly), but very quick to tell you where we are from.  And we all wear our West Virginia badges rather proudly – even fiercely, my husband might add.
When I saw this cake by one of my favorite cake artists, Jenniffer from Cup a Dee Cakes in Tunnel Hill, Georgia (another state I adopted en route to my current home), well…I had to share it with you.  The 16 inch square cake was cut down to the shape of West Virginia University's logo, and then Jenniffer cut blue and gold fondant to finish the look.   There is also a thin blue trim at the base of the cake which gives it a nice finished touch.
But the pièce de résistance is surely the CASE of Reese's Peanut Butter Cups that fill the cake board.  FILL.  the.  cake board.  I'll have some candy with my state-pride-lovin' cake, please.
If you love Cup a Dee and peanut butter cups, check out this Peanut Butter Addiction Wedding Cake we featured just the other day.  You can see other Cup a Dee Cakes that we've featured here and here and here and  here.
Read More:
chocolate candy grooms cakes
,
Georgia Bakers
,
peanut butter cup grooms cakes
,
west virginia university wedding cakes
,
wv groom's cakes
,
wvu groom's cakes
,
wvu wedding cakes