0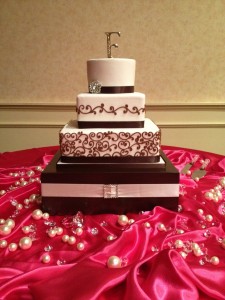 It's the simple touches that really set apart good from fantastic, right?  Anna Hightower from Central Florida's Anna Cakes totally gets that.
I saw this cake for the first time on Twitter, when Anna sent me a pic.  I immediately fell in love!  I mean, pink and brown are such a fantastic color combo anyway, but then I took in the different design elements – the perfectly piped scrolls, the top layer that was round for whimsy, the brooch and the picture-perfect initial cake topper – they all came together to make a beautiful cake.  But truly, what sets it apart for me is the dark wooden pedestal.  Anna could have just used the cake board.  She could have stayed with the tried-and-true silver vintage cakestand.  But instead, she chose this awesome piece.  And that's not all!  She trimmed it in pink ribbon that perfectly coordinates with the cake, and finished the ribbon with more bling.  Perfection!
Anna also related a funny story about this particular cake.  The bride and groom decided, at the last minute, to postpone their wedding for a year.  Anna agreed to transfer their date, but never heard from them again…until three weeks before the date in question.  At this point, that weekend was booked solid!  The bride begged and sweetly pleaded…and Anna decided that she would go ahead with the cake order.  In order to squeeze this cake in among the four other cakes already scheduled for the day, Anna set out at 6 a.m. to deliver it!
And now, as you look at the pretty picture, you have The Rest of the Story.  Here's hoping that it inspires you to appreciate the wedding cakes you encounter in your life.

Read More:
bling wedding cakes
,
Brown and Pink wedding cakes
,
brown wedding cakes
,
florida wedding cakes
,
initial wedding cakes
,
monogram wedding cakes
,
Pink wedding cakes
,
scrollwork
,
wedding cake brooches