0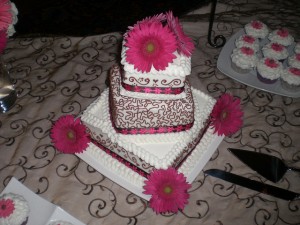 You may have heard a whisper of my love for all things including Pink Gerbera Daisies.  If I am Jerry Maguire than Gerbera Daisies are my Renee Zellweger.  You know, back when she could completely open her eye lids.  They complete me.
Side note, SO many once good butnow cheesy quotes came from that movie: "You had me at hello", "Show me the money", and "you complete me". Gah.  I'm going to stop here before this post becomes an entire post about my story of watching Jerry Maguire.  It was a good story though.
Anyway, this cake is a three-tiered square cake decorated in dark pink swirls and Gerbera Daisies.  Do I see a hot pink plaid ribbon around the base of each tier?  Oh my, Brooke, you must be in heaven right now.
Read More:
pink gerber daisies
,
pink gerbera daisy wedding cake
,
pink swirl wedding cake
,
Pink wedding cakes
,
swirl cake
,
wedding cake