0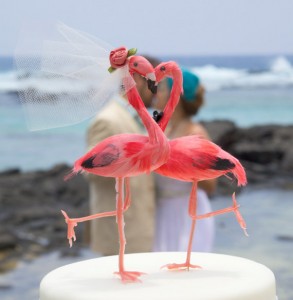 Does your mom help you find awesome content for your blog?  Because my mom totally does.
Mom is a lover of all things beachy, so she fell in love instantly with these cute flamingo wedding cake toppers about three seconds after she saw them on Shorely Chic's blog…and I followed right in her path.
There are few things that say "Florida" better (or louder!) than flamingos.  So by all means, if you're getting married in the Sunshine State — or you just wish you were — then you SUPER need these.
And the cooler than cool thing?  They can totally be yours!  Check out the adorable Etsy shop of their creator, Becky Kazana for the 4-1-1.  While you're there, check her other whimsical creations.
Read More:
beachy cake toppers
,
bird cake toppers
,
feather cake toppers
,
florida cake toppers
,
funny cake toppers
,
pink cake toppers