0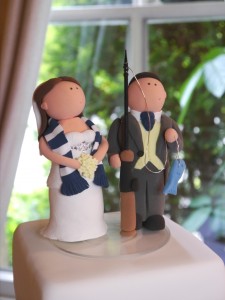 Whew! That title was a mouth full, eh?  Well, what, pray tell, would you have called it?
This adorable custom cake topper comes from our good friend Beth Mottershead of Cakes by Beth in Manchester, England.  I actually featured their cake, this beautiful Blue Squares Geometric Wedding Cake, a while back, but the sweet little figures that top the cake are so special that I thought they deserved their own space on the blog.
Aren't they cute?  The couple had a fun side, and so Beth decided to fashion their likeness in fondant, complete with replicas of their wedding finery.  But the bride is accessorized with a Preston North End scarf, while the groom apparently couldn't resist stopping on the way to the ceremony to catch a fish or two.
Check out other cakes that we've featured by Beth, including this incredible Gothic Roses Wedding Cake and one of my favorites, the Nautical Love Wedding Cake.
Read More:
Bride and Groom Cake Toppers
,
custom cake toppers
,
fondant cake toppers