0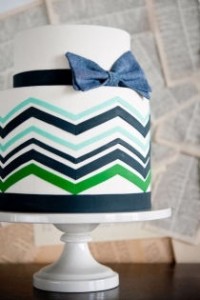 Here's another page from the files of "The Guy Had Nothing to Do with Picking this Cake."  But I love it, so you're gonna see it ANYWAY.
In the interest of full disclosure, this cake was actually made by Cocoa and Fig of Minneapolis (LOVE THEM, and have featured them before with their FAB Rock Candy Wedding Cake) for a styled shoot.  Which, in wedding blog terms, means it wasn't a real wedding.  We don't care though, 'cause for any bookworm preppy nerd girl like me, this is the stuff that wedding fantasies are really made of.
But I digress.  A chevron design in cool blues and greens, topped with a bow tie, this cake is darling.  There's an adorable pic of the groom's cake beside the bride's cake in the original post, so you should really check it out on Style Me Pretty as well.
What do you think?  Would a man ever in a million years choose this cake?  I think so.  Maybe.  Especially if he knows what's good for him.
Read More:
blue and green grooms cakes
,
blue and green wedding cakes
,
blue cakes
,
bow tie grooms cakes
,
chevron grooms cakes
,
double height tiered wedding cakes
,
green cakes
,
preppy cakes