0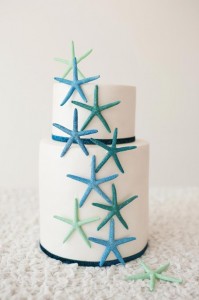 It's beachy, and it's sea glass blue and green.  That makes it perfect.
Now, while I wouldn't put actual starfish on a wedding cake, these gumpaste buddies are just the thing.  The cool colors – all greens and blues and hues in between – are some of my favorite, evoking water and calm…two things that speak to me in soft, soothing tones. The wonky ginormous bottom layer – is triple height the new double height? – is fabulous, and unexpected. While I'm thinkin' this configuration might cause a headache for the cake cutter, we won't worry about that.  Where there's a will, there's a way.
I'm thinking we surround this baby by sea glass and votives.  Thoughts?
We found this cake on Pinterest, but I'm reasonably sure it's the delightful handiwork of Crumbs of Comfort Cake Design.  Check them out.
Read More:
beach wedding cake
,
blue and green wedding cake
,
double height tiered wedding cakes
,
ocean wedding cake
,
starfish wedding cake
,
triple height tiered wedding cake