0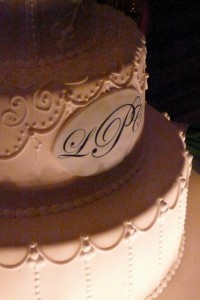 We make a lot about how a wedding cake looks around here.  For me, even more important is how a cake tastes.  We've talked about toppers and trim and table scapes.  But one thing we haven't talked much about is photography.
This beautiful cake, white on white, with a bookplate-style monogram in a classic style, is beautiful enough to stand alone.  But what really captured my attention was the photography, the play of light and shadow, the filter used, the sepia tone.  In short, what makes the cake stand out is further attention to detail.
We take pictures all day of everything to do with the wedding – getting dressed, the pretty shoes, the children in unguarded moments.  But I'd like to offer this little bit of advice:  don't neglect the cake.  Give it a special place in your scrapbook, too.  With today's soaring wedding budgets, no doubt you spent a mint on this little confection.  But it will also be fun to look back and to see what the trends were – and whether you embraced them, or bucked them.
Treat your cake to a special photograph.  Mine actually has a treasured spot in a wedding montage, right in our living room.  And I wouldn't have it any other way.  Veils come off.  Bridesmaids dresses go out of style.  But buttercream is forever.
Read More:
buttercream
,
cake monograms
,
cake photography
,
white on white cakes