nontraditional grooms cake
0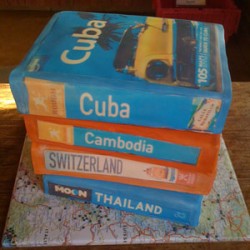 It's been a while since we gave the grooms any sort of cake love, so today I though it would be nice to feature a grooms cake.
And, since I'm in desperate need of a trip anywhere, I just had to show you this really cool groom's cake. It was featured in an article titled "Weird Grooms Cakes" but there's nothing weird about it in my opinion.
In fact, if you and your groom-to-be are avid travelers, this would be a completely awesome cake for him. Read More
0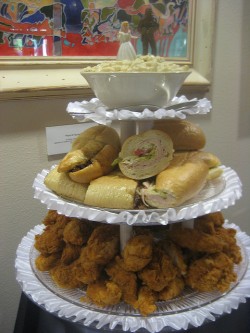 Guys, I had to.
So many times, I see groom's cakes, and I think, that groom had NOTHING to do with picking out this cake.
But this one has the mark of GUY  all over it.
From the chicken tender bottom tier, to the subs on the middle tier, to the bowl of macaroni salad on the top tier (oh boy, I hope they didn't freeze it) and beyond – to the Chewbacca and Bride cake toppers….nothing has EVER said Read More